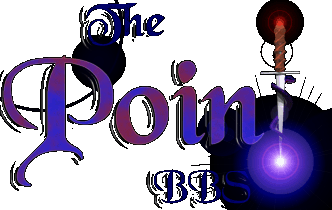 The Point BBS

A multi-line bulletin board serving New Orleans and its surrounding areas since 1990. Located on the West Bank of the Mississippi River and dedicated to bringing its users the best online interactive entertainment available.




Features

Multi-Player Online games

The Rose: Council of Guardians A Brand new mud-like online game.

Major Mud is a popular game that has been around for a few years.
Tele-Arena is an oldie, but goodie and has been around for a long time.
Swords of Chaos A fun game.
Trade Wars 2002 A turn based space empire game.
Other games like: Trivia, Game Connection supporting games like Doom and Heretic, Crosswords, and Hangman

So, You do not want games?

The Point has over 4 gigs of files, ranging from Sci-Fi sounds and pictures to games and shareware.
We also boast fully featured forums each with its own Teleconference channel, as well as a custom
designed globals package including Royals.

Full Internet Connectivity

We offer over 30 local lines and 30 telnet channels (Telnet to Pointbbs.com or 206.41.37.1)
For local users, we offer dial-up PPP which allows access to: The World Wide Web, FTP,
Telnet, SMTP and POP3 Mail, as well as access to Usenet Newsgroups. In addition,
we can provide you with a World Wide Web page for business or personal needs.

Some of the most hospitable users this side of the Mississip'. Click to see the user registry.
Monthly events where the whole family can meet other users and enjoy some time offline.


Connecting to the Point is easy. Click the link to the left to find out how!




Hosted by:

Camus Computer Consulting, Inc.
If you need information or wish to report a problem please, e-mail sysop@pointbbs.com.
© 1995,96,97,98; Camus Computer Consulting, Inc. All rights reserved.